Koi Fish In Lotus Pond Rug Koi Fish Art Rug
Looking for a vibrant addition to your home decor? This Koi Fish With Lotus Rug is perfect! The vibrant painting features some koi fish swimming in a lotus pond. The soft colors and tranquil scene will add a touch of beauty and peace to any room. Not only is the rug beautiful, but it's also eco-friendly and environmentally friendly. Made from 100% polypropylene, this rug is machine-washable and won't lose its color or shape over time.
Lotus is a beautiful flower. It has long, thin petals that are light purple and white on the inside. The flowers are usually smaller than others but have a strong fragrance. Lotus flowers grow in water and often have long roots that help them survive in wet areas.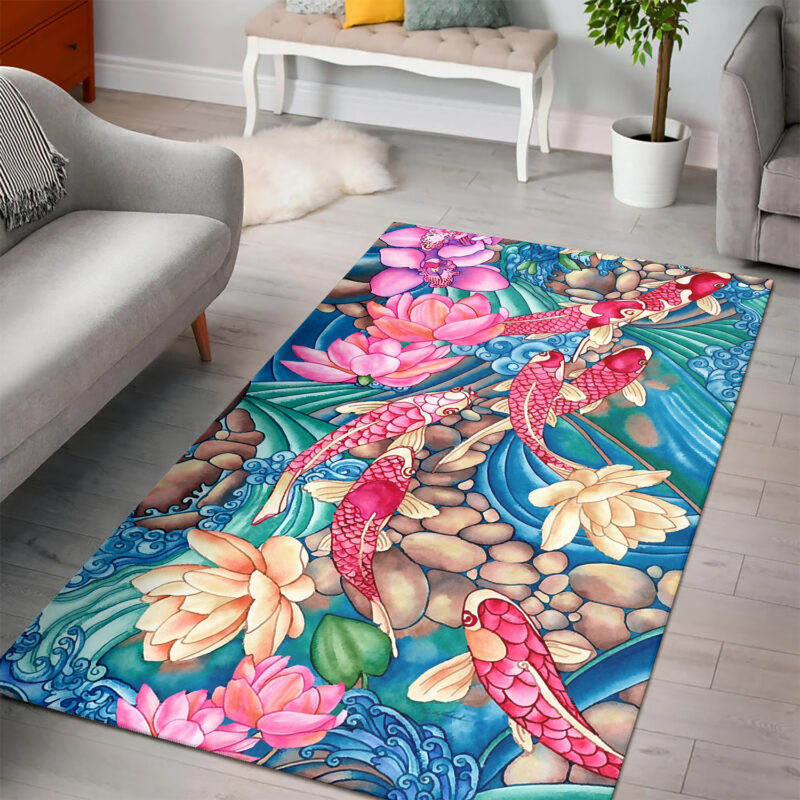 Lotus flowers are often used to decorate homes because they are associated with luxury and extravagance. The flowers have a long history of being used as decorative elements in Chinese and Indian cultures. They are also popular in modern Westernized Asian societies because of their associations with the Lotus position in Buddhism. These Beautiful flowers are often seen in upscale restaurants, hotels, and homes.
We use the lotus flowers and koi fish image in this rug because they represent beauty and tranquility. The lotus flower is also known for its ability to soak up water and transform it into floral perfume, while the koi fish is known for its zealous manner of swimming and its delicate scales. These two images together create a rug that symbolizes serenity and calmness.
Product Details
Every rug we make is crafted with care and attention to detail, ensuring that it is of the highest quality. Our rugs are tough and durable, thanks to the 100% polypropylene construction. Polypropylene is an extremely strong and resilient material, making it ideal for high-traffic areas or areas subject to wear and tear. So, you can rest assured that our rugs will stand the test of time.
Quality & Specifications
Area Rug Size Chart
| Size | Feet | inches | centimeters |
| --- | --- | --- | --- |
| Small | 3 x 5 | 36 x 60 | 91 x 152 |
| E-Small | 3.5 x 5.5 | 43 x70 | 110 x 170 |
| Medium | 4 x 6 | 48 x 72 | 122 x 183 |
| Large | 5 x 8 | 60 x 96 | 152 x 244 |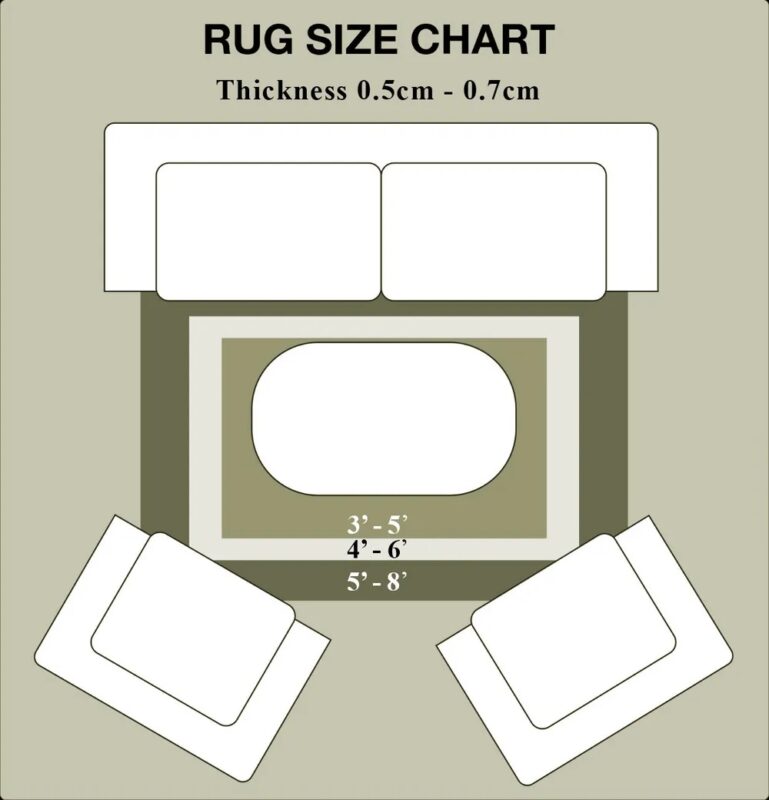 Our rugs are custom-made to order and handcrafted to the highest quality standards.

The rug's bottom is a TPR dot modding non-slip design.

The rug's printing surface is crystal velvet fabric.

Each rug is made from luxurious plush velour and features a premium heat dye sublimation print for long-lasting color vibrancy.
A low-profile thickness of 0.4 inches makes this rug look great in any room and is perfect for placing under furniture.
100% polypropylene
Rug Care Instructions
Rugs are often one of the first places where dirt and dust accumulate. Not to worry though, our rugs are easy to care for and clean! Just follow these simple tips, and your rug will look as good as new in no time.
Vacuum regularly: Vacuuming is the best way to remove dirt and dust from your rug. Be sure to vacuum both sides of the rug to prevent dirt and dust from accumulating.
Spot clean spills immediately: If you spill something on your rug, be sure to spot clean it immediately. This will help prevent the stain from setting in and becoming more challenging to remove.
Use water and detergent: Our rugs are washable. Stain-resistant material makes cleaning a breeze. Use a damp cloth with mild soapy water to clean (avoid bleach) and let air dry
Hang dry: After cleaning your rug, hang it dry to prevent mildew and mold from developing.
By following these simple tips, you can keep your rug looking its best for years to come!
Note: Rugs arrive vacuumed and sealed for protection during the shipping process. Once opened, rugs may take up to 24 hours to lay flat. We recommend light rug cleaning with a vacuum to assist in settling.
Cleaning process