I Never Left You Poem

I Never Left You
I watch you every day, I am always very near.
I know deep in your heart, you realize I am here.
I watch you while you sleep, in your bed at home.
I hear you when you speak to me, when you are on your own.
You cannot understand the reason why I've gone.
But I will never leave you I am there to keep you strong.
Talk to me, I hear you, though you may not see.
We share an unbroken bond that will always be.
Death will not keep us apart, for our love is forever.
Just remember me in your heart, and one day we will be together.
Live your life and live it full, don't waste a single day.
Remember I am always with you every step of the way.

Comments would be appreciated by the author, Melissa McKenzie
I Never Left You, Meaning
The poem I Never Left You was also adapted into a song of the same name.
The song's title, "I Never Left You," suggests that the singer never stopped loving the person they left behind. The lyrics reinforce this idea, with lines like "I never left you, I was always there" and "I never stopped loving you." These lyrics suggest that even though the singer may have physically left, they never stopped caring for or thinking about the person they left behind.
This song could be interpreted as a message to someone hurt by someone else's actions. The lyrics suggest that even if it seems like someone has abandoned you, they may still care deeply for you. This message could be helpful for someone who is struggling to forgive someone who has hurt them.
The song could also be interpreted more broadly as a message about never giving up on someone you care for. The lyrics suggest that even when things are tough, it's important to hold onto the people you love. This message could be helpful for anyone who is struggling in a relationship or feeling disconnected from someone they care about.
The meaning of "I Never Left You" will be up to the listener's interpretation. But whatever interpretation is chosen, the song will provide comfort and hope to those who need it most.
I Never Left You Poem On Canvas With Cardinals.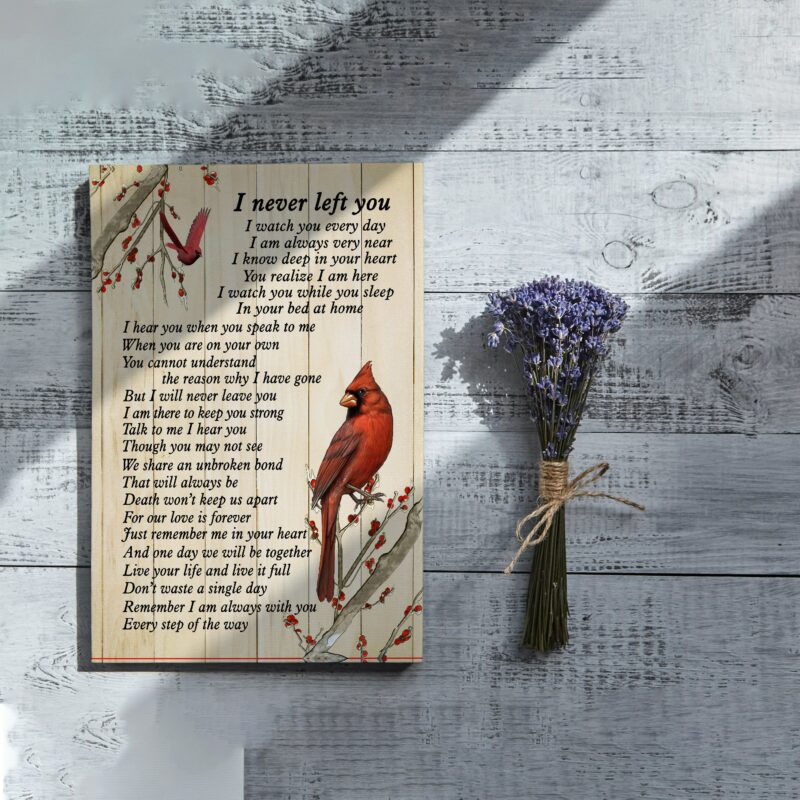 Buy and personalize your space with our custom canvas prints. This high-quality canvas wall art does enhance the look and feel of every room in your home or office. Moreover, I Never Left You Poem On Canvas is an awesome gift for your loved ones on occasions like Birthdays, Thanksgiving Day, Christmas, Memorial Day, etc. This canvas art is also a beautiful way to showcase your unique personality. The wall art is one of the easiest ways to personalize your home decor. You can mix and match sizes to create your family photo wall or give it as a gift to be enjoyed for years to come. The modern touch gives a room a very elegant atmosphere. For instance, just imagine walking into your living space or workspace and being confronted with a fabulous poster, or canvas print on the wall!
Product Detail:
Designed to stay taut and flat, our canvas prints are museum-grade and light in weight.
Mounted on high density wood fiberboard
Hard sealed finished backing keeps dust out and walls protected
Pigment-based inkjet printing ensure high quality printing
OBA-free
Hardware kit available (additional fee may apply)
I Never Left You Poem On Canvas With Cardinals is made-to-order and proudly printed with the best screen printing or print-to garment processes available. As such, they do not include embellishments such as rhinestones or glitter. While we make every effort to provide a consistent product per run, hues and brands may vary due to supply chain availability but will be of comparable or better quality.
Explore more: Cardinals Canvas Prints I Never Left You