Jesus Is My Vaccine Shirt
This T-shirt is the latest trend in Christian fashion. This shirt is a faith-based statement that shows your support for Jesus and his message of love and hope. The shirt has a simple design that features a cross with the words "Jesus is my vaccine".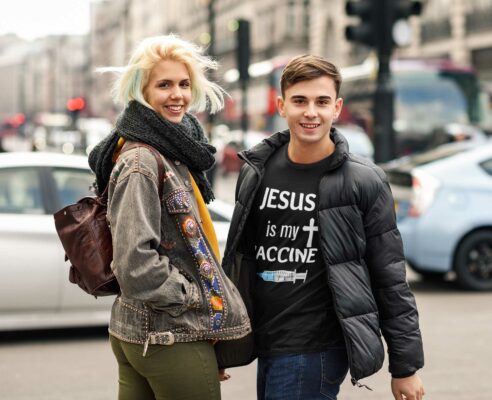 Wearing this shirt is a great way to start conversations with people about your faith, and it also makes a bold statement about your beliefs. Whether you are looking for a new way to show your support for Jesus, or you simply want to make a fashion statement, this shirt is the perfect choice. Jesus Is My Vaccine Shirt is available in a variety of colors and styles, so you can find the perfect one to match your personal style. Order yours today and start spreading the word about your faith!
Product Detail
Our team takes a hands-on approach to crafting each product, ensuring that it meets your specifications. We believe that this attention to detail results in products of the highest possible quality. We do not use embellishments such as rhinestones or glitter, as we think they can detract from the overall quality of the product
Specifications