Jesus Is The Reason for The Season Shirt
Many people celebrate the Christmas season without understanding what it is all about. For them, it is simply a time for exchanging gifts, attending parties, and decorating their homes. But the Christmas season is so much more than that! Christmas is a celebration of Jesus Christ's birth. Jesus was born over 2,000 years ago in Bethlehem, Israel. His birth was foretold by the prophet Isaiah centuries before He was born. And when Jesus was born, angels appeared to shepherds and announced His birth. So Jesus is the real reason for the season! His birth changed the world forever and offered hope to all who believed in Him. When we celebrate Christmas, we celebrate Jesus and everything He represents.
If you are looking for a Jesus Shirt to wear during the Christmas season, look no further than ours at Jesus Shirt. We have a wide selection of Jesus Is The Reason For The Season Shirts that will help you celebrate the true meaning of Christmas.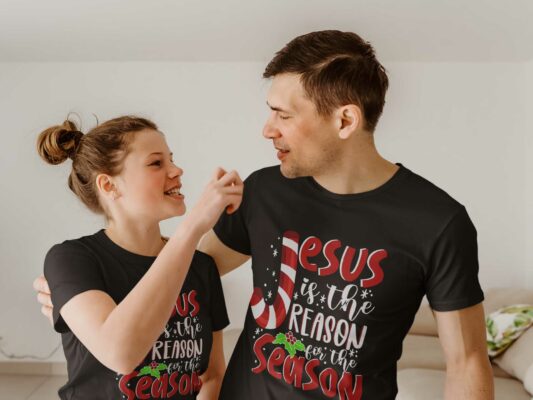 This Jesus Is The Reason For The Season Shirt is the perfect way to show your faith and love for Jesus. And it is also a great way to show your family and friends that you put Jesus first in your life.
With Christmas just around the corner, it's time to start thinking about what gifts to give your loved ones. If you're looking for a unique and meaningful gift that will show how much you care, why not give them a shirt with the message "Jesus is the Reason for the Season"? This Jesus t shirt is sure to be a hit with anyone who loves and values their faith. Order yours today and make this Christmas one to remember!
Discover More Design About Jesus Here
Product Detail
Our team takes a hands-on approach to crafting each product, ensuring that it meets your specifications. We believe that this attention to detail results in products of the highest possible quality. We do not use embellishments such as rhinestones or glitter, as we think they can detract from the overall quality of the product
Specifications