Jesus On Dinosaur T Shirt, Funny Jesus Shirt
Jesus On Dinosaur is an image of Jesus Christ sitting atop a large dinosaur. Jesus is smiling and giving a thumbs up in the image while the Dinosaur looks on happily. This image is often used as an example of how Jesus was not afraid of dinosaurs and how he may have even been friends with them.
The image has become popular among Christians and those who believe in creationism, as it seems to offer evidence that dinosaurs and humans once lived together. Jesus On Dinosaur is a fun and light-hearted way to look at history and offers a unique perspective on Jesus Christ. Whether you believe in Jesus, the image will make you smile.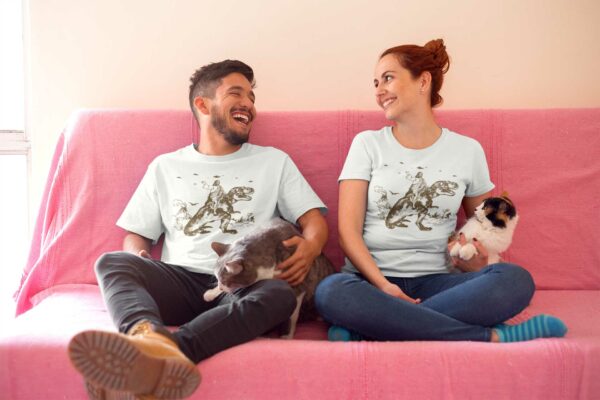 Jesus On Dinosaur T Shirt is a new and unique way to show your faith. This fun and the light-hearted shirt features Jesus riding atop a friendly dinosaur, making it the perfect conversation starter and icebreaker. Whether you're looking for a fun gift for a friend or family member or want to express your faith in a new and different way, this Jesus On Dinosaur T Shirt is perfect for you. Order yours today!
Product Detail
Our team takes a hands-on approach to crafting each product, ensuring that it meets your specifications. We believe that this attention to detail results in products of the highest possible quality. We do not use embellishments such as rhinestones or glitter, as we think they can detract from the overall quality of the product
Specifications