Vinyl Car Decals for Moms
As a mom, you're always on the go. You don't have time to waste when running errands or to take the kids to school. But that doesn't mean you can't show off your personality and style. With vinyl car decals for moms, you can do just that.
Car window decals are a great way to show off your personality, your mom, or your wife. Whether you're looking for something cute or funny or want to make a statement, there's a car decal for you.
Personalized car window decals are a great way to show off your unique style or lovers. You can choose your design or have one made specifically for you.
They're easy to apply and remove, so you can change them whenever possible. And because they're made of vinyl, they'll last for years, so you can keep them looking good as new.
Halloween, Christmas, and Mother's Day are great times to show off your car's personality with a spooky, lovey, or funny car decals. If you want to make a statement, go for something big and bold. Or, if you're looking for something to add a little bit of fun, try a cute or funny design.
So car side decals and graphics are the best if you're looking for a way to show off your mom or wife or your personality.
Product Details
Qualified Vinyl Car Decals: The car vinyl decal has three layers: a waterproof lamination on top of the vinyl, fade-resistant inks for a long-lasting display, and a removable air bubble-free self-adhesive vinyl. Some large wraps with graphics printed on transparent vinyl film can be used as a paint protection kit.
Easy To Install Decals: The installation will be a piece of cake. Simply peeling off, spray water to wet the decal and the automotive surface (to reposition easily), then apply the decal to the surface.
Durability: Strong adhesion to ensure the sticker stays still for a long time. Weather resistance is also a strength that prevents corrosion, material loss, or deterioration due to prolonged exposure to harsh environmental and weather conditions. Removing the stickers will not leave a sticky residue, and there is no damage to the car's original paint.
Perfectly Fit: Suitable for every car model and color. It can be applied at every angle on the car's surface.
Aesthetic Graphics: Using high-pixel images (4K, 8K) so the graphics will be displayed with the best performance. Make the car more attractive and catch people's eyes.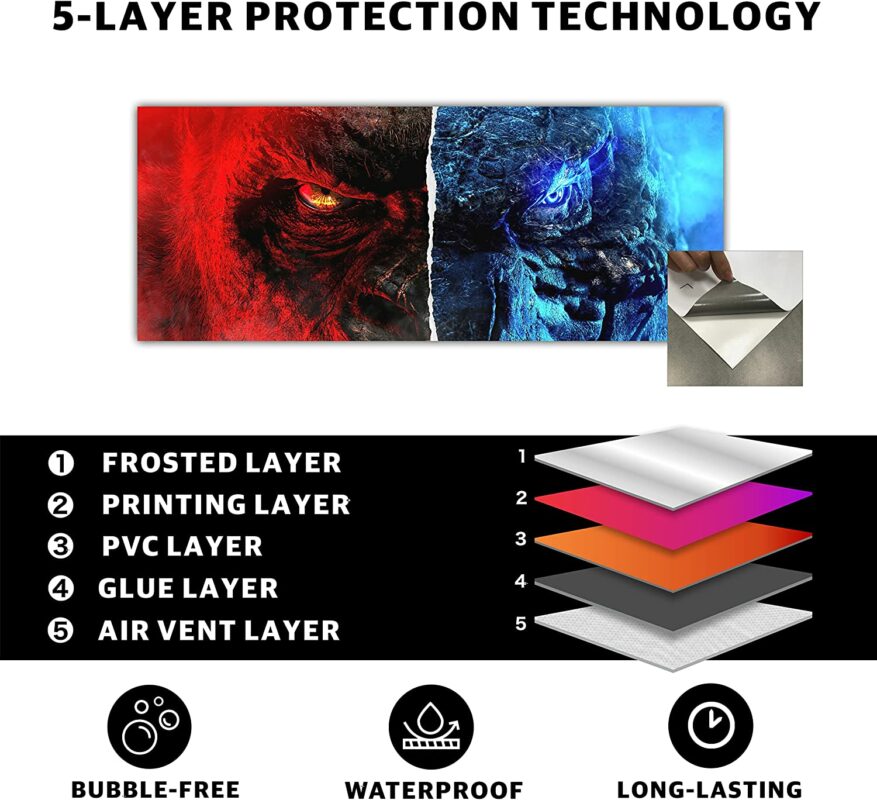 Application Instructions For Car Vinyl Decals
(This guide applies to large transparent decals and smooth surfaces.)
Clean the surface and make sure dust was wiped out thoroughly
Spray Soapy Water to wet the surface and the decal
Apply the decal and reposition graphic on the surface
Remove air and water Apply heat on curves and corners to stretch the decal
Enjoy the results